EDMONTON (CITYNEWS) – An infectious disease specialist who has reviewed COVID-19 numbers across the globe says Canada is moving in the "wrong direction."
Dr. Craig Jenne of the University of Calgary says Canada is not doing much better than the United States or some European countries when adjusting for population.
Canada's COVID-19 death toll reached 10,000 this week as cases continue to rise. The virus is blamed for more than 250,000 deaths in Europe and about 227,000 in the U.S.
"If we look at a place such as Germany or Italy currently, we know that they're concerned and are responding to a resurgence of virus," said Jenne. "But if we adjust for population, their viral numbers – or at least new cases – are not much higher than what we're seeing here in Alberta.
"When we look at where we are today versus where we were in September, and where we were in August, we're clearly going in the wrong direction."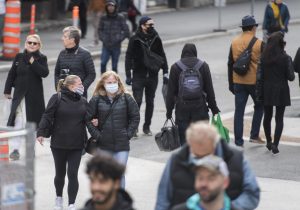 Jenne says the virus is spreading in Canada the same way it has in the U.S.
"Lots of things contribute to the viral spread: the average age of people in a community, the number of people with underlying conditions, healthcare capacity," he said.
"Now it looks like the bulk of viral spread – at least since late summer to now – is in a more social setting. And that is both places like restaurants and bars, but also critically in the informal gatherings in your own home."
---
RELATED:
---
The University of Calgary researcher believes there is real value in comparing and looking at how other countries are handling the spread – especially places that have similar population and health-care systems.
"Simply ask, 'what is working, what isn't working?'" said Jenne. "What can we learn from what others before us have done?"
According to the World Health Organization, more than two million new confirmed coronavirus cases have been reported globally in the past week. That's the shortest time ever for such an increase.